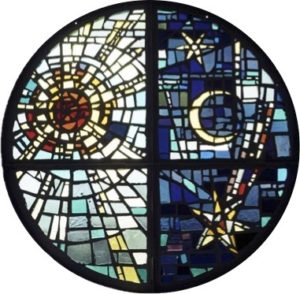 Light up your mind!
AFTER DARK @ ALL SAINTS' EPISCOPAL CHURCH offers an opportunity to learn something new and interesting while helping raise needed funds for community organizations like Cooperative Christian Ministry, Community Free Clinic, battered women's shelter and others. Each class costs $20. There is an extra charge for materials in some classes that must be paid when you register, but you take a project home. Classes begin at 3:00 on Saturdays and Sundays, and 6:30 all other days.  Sessions run approximately 90 minutes and the teachers are experts in their field.
There are two remaining available sessions, both scheduled for Wednesday, March 13:
Lunar Madness!
and
Starting Your own Vegetable Seedlings
Lunar Madness!

NEW DATE: MARCH 13

David Friday, Astronomy lecturer and instructor at CPCC, will bring a telescope and Giant Binoculars to help you get close to the universe.  The class will start with a short lecture on the formation of the moon, phases of the moon, and prominent features of the moon's geology, and then be followed by some serious lunar observing in the parking lot.  David has over 35 years' experience exploring the cosmos and showing it to folks.  We will view the night sky with an 8-inch telescope and large binoculars.  Although no planets will be visible, we may be viewing the moon, double stars, and some brighter deep sky nebulae and galaxies.  A beginners' program on finding and observing constellations will be part of the session.  In the event of clouds or bad weather, there will be a rain date.  Dress warmly!

Starting your own vegetable seedlings

NEW DATE: MARCH 13

Join Joanna Whitnah to learn to successfully start your own vegetable seedlings at home. Leave this class with your own tray of freshly planted seedlings for this season's garden. We'll have tomato, pepper, okra, greens (and more) and the knowledge of a former vegetable farmer. Bring questions you have related to backyard vegetable gardening.

Cost of materials $7 in addition to registration.

 

 

 

 

 

 

 

 

 

 

 

 

 

 

 

 

 

 

 

 

 
All classes are $20 each for adults, $10 for children 17 and under.  Some sessions have supply costs added to the registration. For some sessions, seats are limited as indicated above.