In-person Eucharist Signup
Wednesdays at Noon & Sundays at 5 PM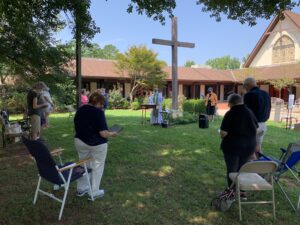 One question that has been on all our minds has been "When will the church be open for worship?" The answer for the present is "not yet." The Bishops have now permitted the churches to offer in-person Eucharistic worship, outdoors for small groups. This Eucharistic worship may only be offered on weekdays or early/late Sunday. With both possibilities, we expect that our principal offering on Sundays will continue to be online. After extensive discussions with the Worship Team, the expanded Vitality Team and your Vestry, we plan to offer Eucharist on Wednesday at Noon and Sunday at 5:00 PM.
Our experience with Neighborhood Perch Church has taught us that people will have to bring their own chairs and electronic copies or printouts of the liturgy. We've also learned that maintaining physical distancing is more difficult than we expected (we humans are social creatures); therefore, we will begin with 15 people.
You must sign up below to attend. In order to enable as many people as possible to attend, please sign up for only one service each month.