The history of our parish is the tale of two churches, born out of wars and combined to form a vibrant and active worshiping community in Cabarrus County.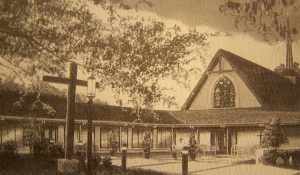 Concord
Reverend John Thomas Wheat, D.D. became first rector
On November 27, 1877, Elizabeth C. Gibson was the first Episcopalian baptized in Cabarrus County
In 1886, the congregation bought the old Presbyterian church for $500.00.
The property at the corner of Cabarrus Avenue and Depot Street, now Spring Street, was purchased for $300.00 in 1891.
In 1893, All Saints' Saints officially recognized as a congregation by the diocese.
One June 30, 1972 the last service in the old building on Spring Street was held.
Kannapolis
In the 1940s, a group of Episcopalians started meeting and formed a mission church
They were admitted into the Diocese as the Congregation of St. James, Kannapolis on July 10, 1941.
On November 7, 1953 Bishop Edwin Penick presided at the cornerstone laying of the St. James Church.
On April 4, 1954, the first service was held in St. James' new building.
Together as One
In 1969, Reverend Woggon began considering merging the church in Concord and the one in Kannapolis.
On December 8, 1968, both churches held congregational meetings and read the resolution to merge the two churches.
This resolution was voted and approved by both churches on January 1, 1969.
On April 18, 1968 both churches approved to acquire approximately 10 acres of land along Lake Concord Road from Cabarrus Country Club.
Groundbreaking was held on April 8, 1971 as the senior communicant, Mrs. J.L. Brown ("Miss Jen") turned the first shovel of dirt.
The first service in our present building was held on August 6, 1972 with the placement of the Foundation Stone.
On October 22, 1972 Bishop Thomas A. Fraser dedicated the Church and the Parish House and all the furnishings.
In June 1984, our church received the Governor's Volunteer Award for exemplary community involvement and outstanding accomplishment in our county and to the people of North Carolina.
On December 22, 1985 The Rt. Reverend Robert Estill dedicated the Columbarium. Dr. Dave Lockhart designed the wrought iron gates that mark the entrance to the garden.
In 1989 a wing was added to the church, which included 7 classrooms, a chapel, choir room, nursery, additional storage, and a room dedicated to the youth group.
A bell tower dedicated to St. Dorothy was consecrated on February 6, 2000, complete with 3 rose bushes and 3 apple trees.
A multi-purpose outdoor shelter was completed in 2001.
In 2008, a new parish hall was built.
The current rector, Nancy Cox, began her ministry on October 11, 2010.
The last Old Country Fair was September 10, 2011.
The first Tour de Saints was held Saturday, August 24, 2013
The preschool closed in August of 2013
The Lockhart Early Learning center opened in October of 2014.