This is where you can find out about all the weekly live experiences at All Saints'.
---
Worship
All Saints' will still come together virtually with worship and sermon on Sundays at 9 AM EDT until further notice. Our Bishops have made the decision to suspend all public gatherings in our Diocese. This includes all public worship. We will notify you when public gatherings can resume.
The service is streamed live on this webpage and the "live" tab of our Facebook page. Tune in live using the player at the bottom of this page!
Each week, a bulletin will be made available to you so that you can follow along and participate with us. The link is available here.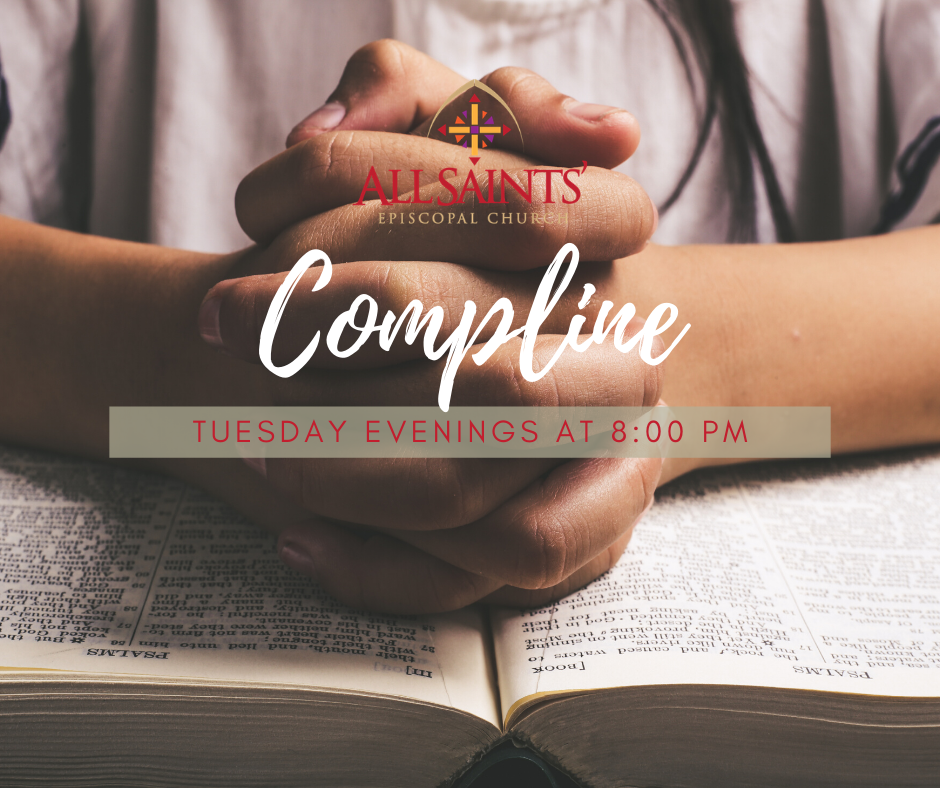 Tuesdays, Compline will be offered at 8 PM via the "live" tab of our Facebook page.
Wednesdays, Noonday Prayer is offered at All Saints' via the "live" tab of our Facebook page.
Additionally, Church Publishing has offered a free digital version of the Book of Common Prayer in PDF format. This means that you can scroll to the table of contents, find the section that you are looking for, and simply click the title or page number to be taken to that particular page.
---
All Saints' 9 AM Sunday Worship Livestream
Permission to podcast/stream the music in this service obtained from One License with license #A-719068 and CCLI license #11109172.
---
OWLs
The OWLs "Older and Wiser Laity" group enjoys lunch with clergy. Currently, the OWLs will stay home, but still get together online!
In order that we keep physical distance in these days of the coronavirus, you are invited to join these videoconferencing meetings. Check back here to learn when and how to join.
---
Presiding Bishop Michael Curry
As we learn to adjust our lives given the reality of the coronavirus and the request to do our part to slow its spread by practicing physical distancing, Bishop Curry invites you to join him each week to take a moment to cultivate 'habits of grace' through May.
March 16, 2020: Habits of Grace
March 23, 2020: Pandemic
March 30, 2020: Love God, love your neighbor, love yourself
April 6, 2020: His Eye is on the Sparrow
April 13, 2020: All Belong in this Family of God
April 20, 2020: God Hears Our Prayers
April 28, 2020: Meeting Jesus
May 4, 2020: Look For The Helpers
May 12, 2020: Our time is in God's hands
---
Latest Messages from Clergy Concerning Coronavirus
Jesus is right here, March 26
Christian Hope, March 19
Diocesan Update on Coronavirus, March 17
Worship and Meet Another Way, March 13
---