Growing up, I felt like I was at least a little bit taller than average. I was taller than my older sister and both sides of our family were relatively tall. In May, on my first day walking into Access to Success (A2S) that myth was quickly abated. My new boss, Andrew Lovedale, Executive Director of A2S and former pro basketball player, nearly ducked to walk through the door at a staggering 6'7''. My other new colleague, Uche, the Mission Program Coordinator, was sitting in the corner, but she also towered at 6'4. My 5'9 failed to compare these former basketball players turned incredible nonprofit leaders.
Unfortunately, for the *apparently* height-challenged of the world, Access to Success does not make people miraculously grow a foot taller. Instead, they have personally challenged me to grow in so many ways. Access to Success is a Christian mission organization with their U.S. office in Davidson, NC. As you heard me mention in Noonday prayer last Wednesday, they are working in education, entrepreneurship, and outreach in Benin City, Nigeria. Andrew may sound familiar because he was on the 2008 Davidson Elite 8 team with Stephen Curry. While still in college, Davidson did a massive shoe drive and fundraiser for Andrew's hometown. After some thoughtful prayer and discernment, he decided to build this nonprofit with some incredible friends like Morgan Clark (Vic Clark's daughter) to give back nothing less than what he was given throughout his journey – love and consistency. In the past 10 years, A2S has grown to become so much more than the shoe drive and basketball summer camp where it started. Today, they support 70 scholars at Nigerian University and 5 US scholars, 240 kids in their After School Academy, 250 Entrepreneurs, and over 10,000 individuals in their outreach programs. 
As several of you know, this is not my first rodeo in the Christian Mission space, whether it was working in Haiti with CODEP and Haiti Reforest or studying the Universities Mission to Central Africa in Zanzibar, Tanzania. However, I can genuinely say A2S is revolutionizing what it means to be a Christian mission in the 21st century, both ethically and culturally. What this means in practice is that everything A2S does is driven by the people on the ground in Nigeria. A prime example of this started in 2016 with an expansion to the outreach.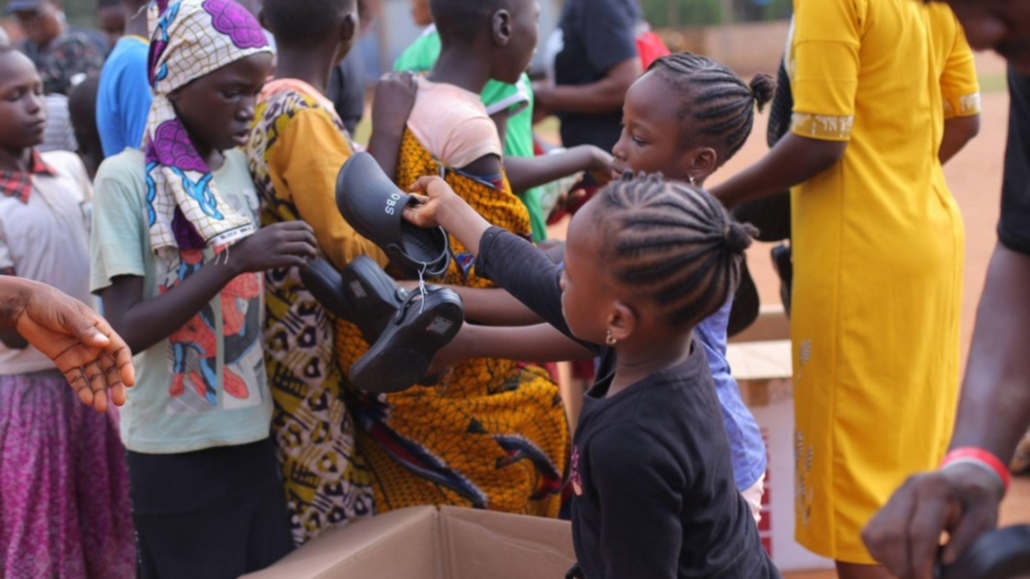 Once a month, A2S delivers a week's worth of food for the 3,500 women and children within a local Internally Displaced Persons (IDP) Camp in Benin City. Those in this camp fled their homes due to terrorist attacks in northern Nigeria and may never be able to return. As A2S was trying to figure out how to support their neighbors in the IDP Camp, Americans came rushing in with different support. As some of you know in Haiti, the United States is known for what started as genuine compassion in response to crises and ended up devastating Haitian farmers and agriculture. The amount of USDA rice, poultry, and wheat which continues to flood into the country prevents local farms from being able to compete. At A2S, Andrew knew this has been the precedent when crisis strikes. So, when well-meaning Americans called Andrew offering their support with shipping in food for the IDP Camp, he politely said "No, thank you, but…" Andrew called on us Americans to change the pattern for Benin City. Instead of shipping American food to Nigeria, Andrew continues to ask for monetary donations so A2S can source the food locally. Not only is A2S able to feed the most vulnerable in their community, but they are also able to support the local economy. A2S is changing the game on what it means to be a Christian mission that honors the experience of the local community in a way that incorporates their culture and customs.
I've named just one piece of A2S's robust outreach program, but there are so many ways to get involved. I haven't even mentioned their incredible Jesus Fueled Shark Tank program, where through an annual pitch competition, three business teams are given the opportunity to be paired with mentors through their incubator program with the potential for a zero-interest loan of up to $6,000 to help start or scale their business.
Right now, the strongest way to show love and consistency to A2S is to become part of their monthly giving program, FaithFuel. It is not the same as adopting a child or a goat as other organizations have done in the past. Instead, FaithFuel is a way to build relationships with the people on the ground. Each month the A2S staff in Nigeria highlights a family, student, or staff member. It is not only a way to show the diverse stories and people who are connected to A2S, but to partner in praying for one another. The kids at the After School Academy genuinely pray for the US partners every day. The Faith Fuel Program is a way for us to join in prayer for the specific needs of one member of the A2S family each month. As part of the program, your monthly gift of $30 or more provides the love and consistency our children need to thrive. Giving monthly ensures A2S can be a constant presence to fill the gaps in Benin City, Nigeria, whether that is for the Internally Displaced Persons, After School Academy kids, University Scholars, or the Entrepreneur Community.
If you want to learn more or get involved, reach out to me, Emily Badgett emily.c.badgett@gmail.com to envision how A2S can continue to partner with All Saints'.
Emily