We turned into the parking lot minutes before 5 PM on Monday, June 19. The nine teens, Tiffany Fulton, and I had just driven nine hours on our return trip from Camp Nazareth in the Diocese of Northwestern Pennsylvania and some post-camp team building in Franklin, PA. We promised the parents we would return their young people tired and with lots of dirty clothes. Mission accomplished!
What else did our venture contain? Christian formation (as many contact hours as a year of Sunday School) tucked into fun and engaging camp activities, music, art, drama, and worship. Life skills development in ropes courses, climbing walls, kayaking, cabin life, small groups, meal preparation and clean-up, as well as increased social confidence through making new friends and negotiating through challenges.
One story captures much of this for me. Two of our teens were negotiating the Allegheny River in a double kayak, neither had kayaked before, and the boat seemed stubbornly determined to make circles and zigzags and unexpectedly head for shore, over and over again. Emotions and frustrations ran high. And then the two decided to take a break, air their frustrations, listen to one another, and make a plan to work together. The adults didn't tell them to do this. They had learned these and other skills through their time at camp and in youth group.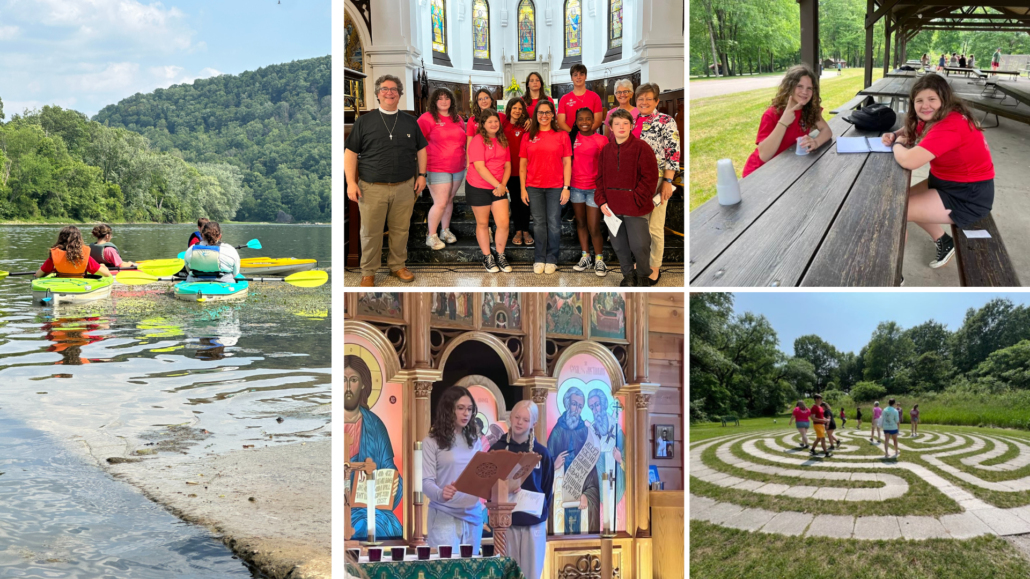 "Your kids are so well formed," commented Bishop Sean Rowe, Bishop of Diocese of Northwestern PA (and teen boys' counselor at Camp Nazareth). Both of the camp directors and several counselors made a point to say that as well. I pointed them to Tiffany.
Camp is an intense, residential experience of Christian community, a community that we are always building here at All Saints'. In our church, small groups and ministry teams offer time for service, deepening faith, and making friends. Stephen ministers and lay eucharistic visitors support people through challenging times. Learning, worship, and pastoral care happens formally, yes, but informally as well, for adults, teens and children. Day by day, week by week, season by season we are formed as Christians, in community.
You are invited to follow our teens' lead in building Christian community. Check out the rest of the Weekly Word for upcoming opportunities here at All Saints'.
Blessings,
Nancy+