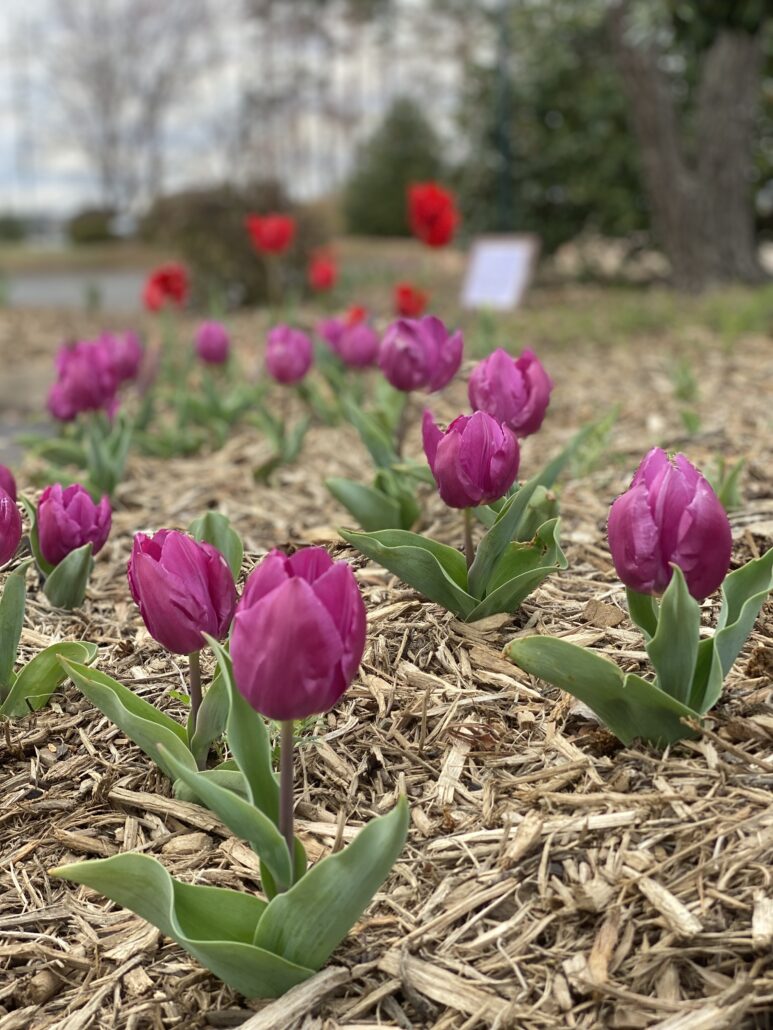 As the weather takes a turn for the better, you may begin to notice the beautiful tulips on the North Parking Island and wonder to yourself, "Where did those flowers come from?" Thanks to the efforts of All Saints' Youth, Mark Robinson, and the Gardens Team, Operation D.I.R.T. (Dope Intergenerational Relationship Time) was a success! We sneakily planted tulip bulbs in the late fall as a surprise for early spring. Our hard work has paid off! We are so glad to have had the opportunity to build intergenerational relationships while learning and gaining hands-on gardening experience.
EYC has completed additional service projects over the last several months, including a joint-effort food drive with the Men's Group, yard care and maintenance for our shut-ins, and service to the Night Shelter. We also completed a successful "to-go only" Shrove Tuesday Pancake Supper, which helped the youth raise funds for future mission trips. Our next service project will take place this Sunday, March 27, when in partnership with Cabarrus County Partnership for Children and McGill Baptist Church, we gather to assemble Duffle Bags for Hope.
Since December of 2021, Cabarrus County Partnership for Children has been collecting donations for Duffle Bags for Hope. This program is designed to provide emergency placement bags for kids in foster care, who find themselves without important items in moments of desperate need. These bags will contain necessities that these children often don't have upon arrival to an emergency placement site.
It is hard to imagine the level of fear and anxiety that a child in foster care may experience when being placed under emergency orders. Being taken to an unfamiliar place and often going with only the clothes on their back can result in a child feeling helpless. As part of our ongoing discussion about the needs of our own community and doing service work that directly gives back to the area in which we live, the youth group will be packing items – such as clothes, deodorant, hairbrushes, toothbrushes and toothpaste, school supplies, water bottles, sanitary items, shampoo/conditioner, and various other essentials – that will be of great use to children in foster care. I am so excited to watch our youth interact with other folks their age as they work together to make the world a better place for their own peers, all while doing the work that Jesus did.
This Sunday, March 27, we will offer Prayers and Blessings for the teenagers in our congregation at the 9 AM service. As our young folks face the next chapter of their lives and all those teenage years bring, it's important that they know All Saints' is a support system for them. Our youth truly embody the concept of unconditional love and generosity and remind me of a quote from Suze Orman: "True generosity is an offering; given freely and out of pure love. No strings attached. No expectations." Our young folks are following the path of Jesus and walking in the way of love, and your continued support is always appreciated.
Best,
Mayden McDaniel
[she, her, hers]
Director of Youth and Family Ministries